Centerwatch.com Review:
Clinical Research and Drug Information | CenterWatch
- CenterWatch provides a variety of clinical research products and services: including clinical trials and results, drug approvals, study grants, news and analysis, career and training opportunities for patients and professionals.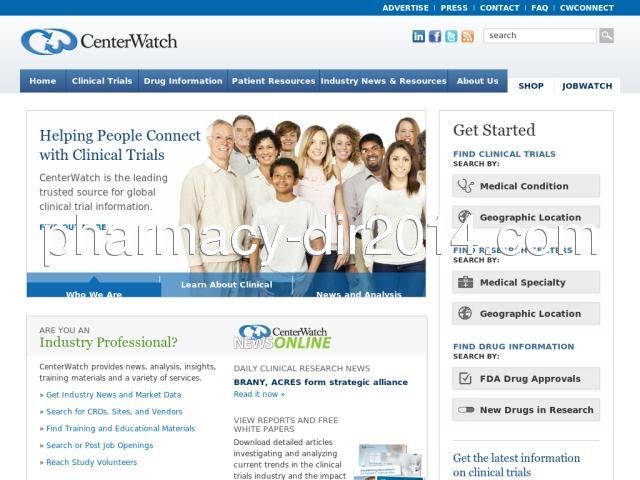 Country: North America, US, United States
City: 19702 Newark, Delaware
"pissed_island" - Absolutely AmazingThe movie this soundtrack is from is possibly a work of genius, and I really do not use that word lightly. But at the same time I dislike it. "The Wall"'s imagery is a creepy mind-trip unlike everything...um...ever made. Yeah.I disliked it because it disturbed me and made me feel ill, which is unusual because I'm a dark sort of person. But it certainly was worth seeing once, just because even though I didn't like it I was amazed by it and couldn't stop watching until it was over. Similar to a fascination with staring at a rotting corpse you are disgusted by but cannot take your eyes off of.But wait! We're talking only about the soundtrack here, not the movie it's from.
There are quite a lot of tracks on this classic CD, which range from unique but annoying (only 2 tracks) to wonderful (most of the rest) to awe-inspiring, phenomenal music that will be permanently emblazon itself in your mind (something like 5 of them).
This music gives you a feeling you can't experience with any other music. It's that unique, and perhaps one could say "mind expanding".
But if you are unable to understand it, you will not be able to enjoy it, like classical music.
This really is classic rock. And it's far more fresh and vibrant than the modern pop music of today.
Casey Carter - A Must Have for All Nursing StudentsI bought this book specifically for clinicals because it was easier to haul around than my larger guide. I can quickly look up any drug I have given in the past four months and it has really allowed me to get a quicker handle on my drugs than before I used the guide. I have never given a drug that is not in this book, including your "dated" and less used drugs like Tigan.

This book is also invaluable for charting and learning your abbreviations - It also explains the Latin origin of the word, which allows me to better memorize and understand it as I read through nurses' and doctors' notes. My only complaint is that the book wears so fast, but I constantly use it or loan it. I hope my school orders them in bulk for a cheaper price at the bookstore for future students, but it is well worth the $9.
Anonymous Reader - The Intriguing Trip (on Many Levels) of an Unlikely Spiritual SeekerDaniel Pinchbeck is a rather unlikely spiritual seeker. In 2012, Pinchbeck's memoir of his investigation of the forthcoming end of the Mayan calendar, the quest for alternative realities and higher levels of meaning is joined with Pinchbeck's ongoing search for drugs and illicit sex. So as Pinchbeck travels to metaphysical venues, he manages healthy doses of iboga (a psychedelic used by the Bwiti cult in Gabon) and ayahuasca (a hallucinogen used in Amazon Basin rituals) and consummates affairs with or lusts after a variety of women, despite the fact that his committed partner has recently borne a daughter.

The joke's on the disapproving reader though, myself included. Despite his many shortcomings, Pinchbeck offers an excellent and intriguing narrative and delivers himself of many a well-honed spiritual principle. His efforts to find a balance between male and female energies mirrors the ageless effort to master the classic yin-yang dichotomy. Similarly, Pinchbeck provides a fascinating take on the possibility that the coming of 2012 will integrate the spiritual beliefs that underpin many indigenous cultures with the advanced techologies of the developed world. (For a very different analysis of 2012 that reaches similar conclusions, read futurologist John Petersen's outstanding A Vision of 2012.)

In service of his narrative, Pinchbeck takes the reader on a global tour of New Age and tribal sites, ranging from the Bwiti lands in Gabon; to England's Glastonbury, Avebury and Stonehenge; to a "priestess" retreat in Hawaii; to the Burning Man festival in Nevada; to the Amazon Basin; and, finally, to Arizona's Hopi mesa. Pinchbeck's accounts of his visits to these venues are themselves fascinating, as are the metaphysical conclusions that Pinchbeck derives therefrom. Granted, Pinchbeck's conduct is maddening-- his desire for drugs, promiscuous sex, and general bad behavior never abates-- but he is an acute observer and never dull.

Can one learn from a highly imperfect teacher? To recognize the perfection embodied in imperfection is itself an important spiritual lesson. Daniel Pinchbeck is indeed an unlikely spiritual teacher whose merits and shortcomings should be weighed carefully, but he has written a lively work with many important observations. Weeks after finishing 2012, I still find myself mulling over Pinchbeck's experiences and conclusions, and I look forward to a second reading of this book.

Bottom line: If you are intrigued by the meaning of the Mayan calendar and you are open to exploring a fascinating-- albeit maddening-- travelogue with a metaphysical bent, make time for 2012.
Terrence J. Reardon "Classic rock and old sch... - Excellent document to only Rush tour I've missed in last 21 yearsCanadian power trio Rush's brand new double live album (and off-shoot DVD) Time Machine Live in Cleveland 2011 is a must for ALL RUSH FANS!
Recorded in Cleveland, Ohio at Quicken Loans Arena in April of 2011 just as the second leg of the Time Machine Tour was underway and sees Rush capturing a majestic show (the first time a live DVD came from a US performance although some bits of 1989's A Show of Hands album were recorded at shows in the US) into a powerful double live CD.
I must confess, even as a longtime Rush fan (solid Rush fan here since 1990 and are my favorite band alongside Pink Floyd and Genesis), that some fans are starting to complain that Rush is releasing too many live albums (like Iron Maiden and post-Roger Waters Pink Floyd and also David Gilmour) but such as life. Then others complaining about Geddy Lee's voice being off for this show (he might have either been under the weather or whatever for the show, then there are the bellyacher reviewers who must be either Britney or Gaga or Katy Perry fans). Despite Geddy's voice feeling under the weather (the 1978 portion of Different Stages in 1998 had Geddy singing with a bad cold and his voice struggled) his always excellent bass guitar playing and keyboards here more than make up for it. Alex Lifeson's guitar work is excellent as always and Neil Peart's drumming hasn't lost a step.
I'm not complaining about Rush releasing yet another live album. Thing was, I missed the Time Machine Tour due to the economy being at an all time low (and it's not getting any better folks believe me) and also Roger Waters was touring with The Wall so I went to see Roger perform The Wall in Boston but knowing Rush very well (and being a 20 plus year fan), I knew a live CD and DVD would come from the tour (this is the first tour I missed since the Roll the Bones Tour in 1991/92). In my view, it's a great live disc and even superb DVD and gave me a chance to hear what I missed.
There are some new tunes performed here like "BU2B" and "Caravan" which are from their forthcoming Clockwork Angels album (due in 2012 and cannot wait for it) but both tracks are performed much better here than the studio versions out on download (the MP3 sounded like crap). Neil's constantly evolving drum solo spot this time called "Moto Perpetuo" and Alex's acoustic instrumental called "O Malley's Break" are also excellent new ditties.
The band pull some lost nuggets out of the archives on this new live album like "Presto" (which had not been played live ever until the Time Machine Tour and during the recording Geddy goofed on the words but were able to fix from another show), "Time Stand Still" (which was last performed on the Counterparts Tour in 1994), "Stick It Out" (last played on the 1997 Test For Echo Tour), "Leave That Thing Alone" (which had not played since 2002's Vapor Trails Tour, unique to hear without it segueing into a drum solo), "Faithless" (which was not performed on the Snakes and Arrows Tour) and "Marathon" (which was last played on 1990's Presto Tour).
You also get classics that have appeared on previous live albums but done well (the opening "The Spirit of Radio", "Workin' Them Angels", "Freewill", "Subdivisions", "Closer to the Heart" (performed live for the first time since the one-off for Rio in 2002 with almost an Irish breakdown jig sound for the third verse rather than a by-the-numbers rendition), "2112 (Overture/Temples of Syrinx)", "Far Cry", "La Villa Strangiato" (this time with polka induced intro) and a unique take of "Working Man" which is done in a reggae beat for the first verse and part of the second verse and then goes into its normal take before ending like on Rush in Rio this time with a teaser of "Cygnus X-1" at the end) and all are perfomed well.
The real treat here is the whole of 1981's Moving Pictures album played start to finish. You have the staples being Side 1 of the album which had all been released on most of the live albums since 1998's Different Stages and done well ("Tom Sawyer", "Red Barchetta", "YYZ" and "Limelight") plus "Witch Hunt" (which they had resurrected in 2007 on the Snakes and Arrows Tour), "Vital Signs" (last played on 2002's Vapor Trails Tour) and the best tune from the album "The Camera Eye" finally on a live album (last played in full on the 1981 Moving Pictures Tour). The ending of "The Camera Eye" features samples from Mike Myers as Austin Powers ("yeah baby yeah") and Monty Python movies (Eric Idle's "BRING OUT YOUR DEAD" from The Holy Grail and John Cleese's "machine that goes PING" from The Meaning of Life) thrown in for a hilarious touch.
For Rush fans who are hardcore fans and who like to have a souvenir of every tour, like myself, scoop this live album up! For those who don't either like it or don't want it then stay clear.
RECOMMENDED!