Princetonmedical.net Review:
Welcome to Princeton Medical Group
- Princeton Medical Group - Distributor of endoscopic surgical instruments.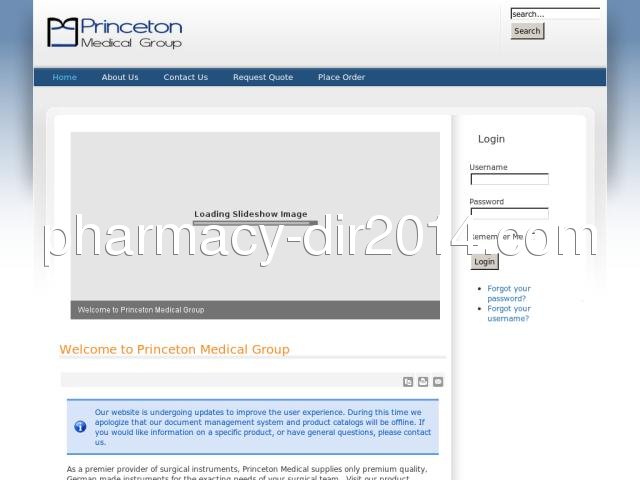 Country: North America, US, United States
City: 90017 Los Angeles, California
jGriff100 - Excellent Meal ReplacementThis is an excellent product. This is the first product that has every actually worked. I can only consume 1/2 the serving size at one time. If I don't drink it immediately it will thicken and I need a spoon. It is no where close to even being considered tasty, but I find soy milk or flavored water helps on the taste. It is somewhat... how can I say it... visually gross, but despite the drawbacks on the senses this is the best meal replacement I have ever consumed. It is gluten free and dairy free. It's free of some other things, but I am completely allergic to gluten and dairy is problematic for me.

This product is now on the regular grocery list along with the Raw Fiber.

Garden of Life - RAW Meal, 2.6lb tub
Garden of Life Raw Organic Fiber, 1 lb, 5 oz
RAW Protein - 622g - Powder
NobodysFool - "Lady Pen" support and adviseHoping I can get a little support and feedback. I gave my daughter these pens for her 13th Birthday - I wanted to acknowlege that my little girl was growing up and thought a "Lady Pen" would be the PERFECT gift - plus, I began to worry that if she kept using those heavy Man Pens, she might begin to get large finger muscles, and then a wedding band from a nice doctor would NEVER fit on her ring finger! Anyways, she opened my gift, took one diamond encrusted pen out of the pack, threw it on the floor and ran out of the room crying. I ran after her, but she slammed the door in my face. Later, she slipped a note under my door - hoping for an apology, all I found was an advertisement for something called "Lez-B-Pens", 2 pens in a pack. I had no IDEA which was the "lady pen" and which was the 'man pen". They seemed equal in all respects...which confused ME, you can imagine! How did my daughter decide which pen to use when paying the bills and which one was for shopping?? There was a note at the bottom from my daughter. It said simply "I wanted to tell you sooner, Mom. Ive been usng these pens for a year now." Sigh. I secretly tried the Lez-B-Pen later that evening. I have to admit - I got more done with that pen in one hour than I have with my Lady Pens all year!!
David O'Brien - QuickBooks 2011 ROCKS!I've been using QuickBooks for my business since 1995. So, I've had LOTS of experience with it.

And, I can tell you that Intuit DEFINITELY hit a home run with QuickBooks 2011!

There's a couple cool new features that have knocked my socks off! One is called the "Customer Snapshot". It gives me tremendous insight into my customers and what I'm selling...all in one window. I'm a visual person...so, the fact that this window uses pretty graphs is just another plus for me.

Another cool feature is called the Collections Center. This SIGNIFICANTLY cuts the time it takes to do customer collections. It used to take hours...now it takes minutes.

Good job Intuit. THANKS!
Chris Grosso - An incredible story by a truly heroic womanWhile it's scary to read a first hand account of incredibly unjust actions by people supposedly working for an independent and unbiased government organization (i.e. Ken Starr and the OIC), this is nevertheless a fascinating and uplifing story. Susan McDougal's story is simply amazing. And I can't help but feel so happy for her that she persevered through one nightmare after another and came out a stronger, wiser and better person for it. A terrific book!
R. Carroll "Author/Artist" - Keeps Getting Better, But...I've been using QuickBooks since 1995 and there is no doubt about it, it's a great product. However, there are some things that still annoy me. For example, I wish that I could re-memorize invoices so that they would "overwrite" the last invoice without creating a new memorized version. If there is a way to do this, I don't know what it is. Advice?

I don't like how the registers kind of jump around at times. I'll be entering information, when all of a sudden the register jumps and I have to scroll down to find the line I was working on. I don't know if this is a problem with the program or something to do with my own equipment. (I did just purchase a new wireless mouse)

However, there are many other things that I absolutely love about this new version! I love the invoice, receipt, and payment windows and that they show all the previous entries to the left. I also love that you can search each of these windows so easily. I like the new reconciliation window as well.

I have never taken any bookkeeping or accounting classes, yet I've been able to manage my small business for many years. At the end of the year, I just turn my file over to my tax man and he does the rest. Fantastic!