Terbinafineprice.blog.hu Review:
Terbinafine Price
- Buy Terbinafine without prescription online now.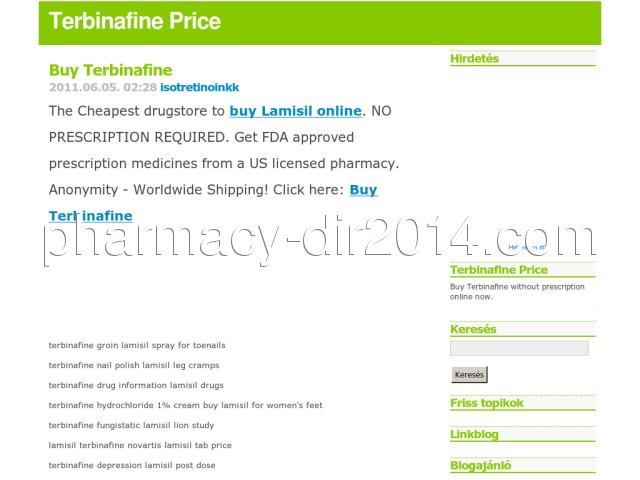 Country: Europe, HU, Hungary
Nathan Cain - Sony is Greatness

I purchased mine directly from the Sony Store.
I buy everything Sony and this adds to the Greatness. Here's some info
Everything is fluid and fast
Plenty of free games on PlayStation network
Pay to play online but also get free everything
No streaming from PC(DLNA) such as movies or music which really sucks. (Updates in the future possible)
THE BEST EXCLUSIVES in any gaming industry we just need to give Sony time to get them out.
Adam Petrone "Adam" - Great, but will get better with Android Ice Cream Sandwich OS

I've seen the evolution of the PC, owning my first IBM Aptiva back in 1992. Basically we're trying to make things smaller and more portable.First was the Big box and monitor, next was the flat screen monitor and laptops, then netbooks and now tablets.In my opinion other than App's I would save money and stick with a netbook for portability.Ok so This is my second tablet, I owned a Toshiba Thrive which I recently sold, was never really happy with it and always found myself back on my 250 dollar acer 11.6 netbook when I wanted mobility. This Asus prime is by far the best Android tablet on the market to date, But it's far from perfect as it really was suppose to run Ice Cream Sandwich out of the box. The other major flaw in this is it's aluminum case. Apple ran into this with it's I-Phone as well. Signal strength is diminished when having to pass through metal compared to plastic. That's why it was delayed while they tried to remedy the weak WIFI. They realized after the fact that Satellite signals for it's GPS were also so weak that the GPS is really useless. They fixed the wifi issue but I don't think the GPS will ever be remedied. That side the big difference between the current android 3.2 and Ice Cream Sandwich is that the latter will allow all android app's to work on it where with 3.2 will only run android tablet app's . That is a big plus if they want to sell these as there aren't as many tablets app's as there are phone app's. There is suppose to be an update released toward the end of january, but if I had to do it again I would wait to buy this. Many bugs need to be worked out and I would rather have Ice Cream Sandwich installed at the factory rather than doing a update on adroid 3.2. That aside it's well built but the case does shows scrathes easily and even though it has the new tegra 3 there really is nothing out there that needs such a processor yet. Again wait if you havn't ordered yet Id'e wait and see how this comes togther. You have to ask yourself do I really need this or will a netbook suit my needs?

UPDATE:

Asus is today introducing the TF700T, a new variant of its Eee Pad Transformer Prime tablet, whose major upgrade is a move to a 1920 x 1200 resolution. That makes two Android tablets moving to a 1080p res at CES 2012, following Acer's unveiling of the Iconia Tab A700 yesterday.

The new Transformer Prime isn't sacrificing quality for quantity with its move to a much higher pixel density -- its display is still made of the SuperIPS+ stuff that impressed us so much when reviewing the TF201. Another highly significant upgrade is in the tablet's rear cover design, which has been altered to allow for better GPS, Wi-Fi, and Bluetooth performance. Great for new buyers, to be sure, but we wonder how happy owners of the current-gen Prime will be with this news.

Android 4.01 will be the shipping OS on the Transformer Prime TF700T, which should cost between $599 and $699 when it hits North American shelves in the second quarter of 2012. Compatibility with the TF201's keyboard dock is retained, as are most of the internal components, including the 1.3GHz quad-core Tegra 3 system-on-chip. Onboard storage on the new Prime will be either 32GB or 64GB, depending on your preference. The only other notable step-up for the slate is in the front-facing camera, which has been upgraded from 1.2 to 2 megapixels.

WAIT!
Wheelchair Assassin - A somewhat overlooked classic

With its absurdly long songs ("Dogs," for instance, goes past seventeen minutes), "Animals" had virtually no chance of becoming a radio standard like "Dark Side of the Moon" or "The Wall." That's too bad, because I think this album surpasses its better-selling counterparts. "Animals" is, simply put, a masterpiece of musicianship and songwriting. The into/outro combination of "Pigs on the Wing" bookends three ten-plus minute epics, "Dogs," "Pigs," and "Sheep." With insinuating melodies, hair-raising guitar solos, and beautiful synths interwoven into the mix, Pink Floyd created an ambient sound that was intricate and soothing at the same time. Perhaps most importantly, Roger Waters delivered a vocal performance for the ages, with a texture that reflected the depth of the album's lyrics. Waters's delivery here is understated, but at that same time it's charged with emotion and indignation. With Waters and every musician in top form, "Animals" is an excellent album in every way, and it deserves even more than the considerable amount of attention that it's gotten.
Virtual Habitat, LLC - Much better than expected!

I didn't want to buy this. I was happy with QB 2010. Then I started to get the warning messages that Intuit would stop all support of the 2010 product. OK, I can live with that. Then suddenly, I couldn't print anything, not even pdf's. I tried all of the "fixes", but nothing worked. I can't live with that... Well played Intuit, well played.
So I read all of the reviews. Read about the crappy color scheme, etc. But what else could I do? I deleted QB 2010 and downloaded 2013.
Hey, guess what? I totally love this version! Not kidding. I like the new way things are laid out. The reports are terrific and everything seems faster. Snappy even! I customized the invoice with my logo and all of my forms automatically had the new logo! How cool is that? Oh, and that color scheme? Gotta say, I like that too. It's more business-like, and I have no problem seeing anything. So, that's it. I'm a happy camper! :)