Topnotchboardprep.com.ph Review:
Topnotch Board Prep - The Best Review Center for Philippine Medical Board Exam
- Topnotch Board Prep - The Best Review Center for Philippine Medical Board Exam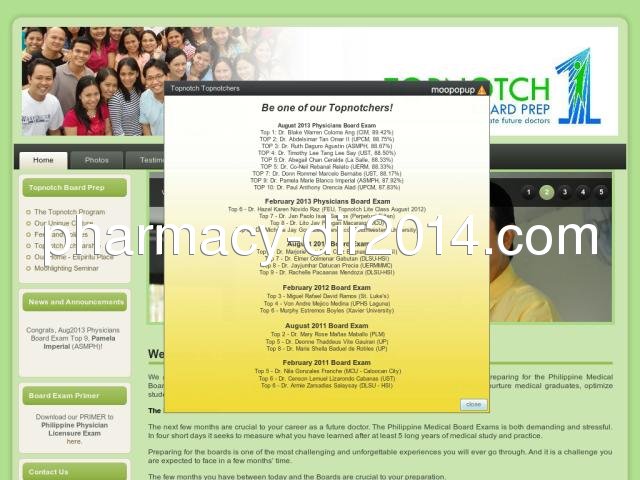 Country: North America, US, United States
City: 84606 Provo, Utah
Erik E - Digital DownloadThis is my first time ever purchasing a downloadable software from Amazon or online in general. I downloaded this in 03.2013. I use this for general business needs, and use all three programs regularly.

This may not be 100% full featured as the Windows version but so far for all of my needs, it has fit the bill. And I do use it fairly extensively to manage a variety of different things for a small business. I find it easy to use and the transition between Windows/Mac for files has been seamless and errorless for the first month. Overall, I am happy, I got what I expected from the software package and it only took 15m to download, then another 2-3 to set up (wi-fi).

Very happy with the software and the download/set-up process.
R. Krishnan - Give it a chance!Purchased from Ebuyer on 12th, received on 13th, OTA firmware and ICS upgrade without hitch. Top notch performance, wifi excellent both near and far from router (wifi matches my SGS2), GPS outside house locks, inside is hit and miss (only rarely use GPS, SGS2 works for me). Excellent build quality, gave my iPad2 to missus but she wanted the Prime instead after looking at it! Yes, a lot of people have issues and they have my sympathy. Apple brings out crap products too, don't forget "antenna gate", at least Asus acknowledges the issues, doesn't ask you to hold the tablet in a particular way. Dock is great, screen is good, I am happy overall. I own several Powerbooks, Macbooks, iPods, iPhones and an iPad2. I think Android is maturing rapidly and I have switched back to Win7 and over to Android. Competition does work!!

Update 24 January:

Unfortunately I had to return it due to 4 separate pixel defects (one was a 3mm bright white splotch, other 3 tolerable) plus random reboots after updating to ICS. Ebuyer collected, checked, confirmed and refunded without the slightest quibble. Great dealer and great looking product but QC issues became apparent a few days after use. So first impressions are not always "lasting" impressions at least in this case. To be fair, I then purchased a Lenovo Thinkpad tablet from another dealer, got scammed with obviously used item instead of brand new and still waiting for refund.

Gone off android tablets for a while, wouldn't touch "fruit company" products with a barge pole now after many years of toeing the line, had enough of form over function. I have ordered a Samsung series 7 slate now, double the price but if the new build SS7's are free of QC issues, I will stick with it. I am glad the majority of people getting the ATP now seems to have trouble free product. I do a lot of writing and MS OneNote has served me well in the past and I know it will continue to do so now on the Slate despite trade-off in size/weight/battery life. I really hope QC is good!
Max G. "MathGuy" - Pleased with ProductPurchased this on sale at the local Target store three days ago. Thus, this review provides preliminary impressions.

PICTURE: Really outstanding. Crisp, deep blacks, bright, with lots of pre-sets depending on your tastes. We use this TV in our bedroom, and it's much better than our prior TV (a Vizio VT420M, which was no slouch).

SOUND: Okay for TV speakers. It's not as good as the setup in our living room, where we have five channel sound through an amplifier, but, really, it's fine for our bedroom.

NETWORK CONNECTIVITY: This TV is wired directly to our router, but I tested the wireless just to see how it worked and it was trivial to set up and connect.

OTHER PORTS: It has only 3 HDMI ports and they are located on the side of the TV rather than the back. This is both good--it's easier to connect the blasted things up--and bad--you've got visible cables dangling from the side of the TV. Personally, I'd prefer the ports on the back, but this is a minor thing. Also, I could have used another HDMI port or two. We've got FOUR devices to connect--cable box, Roku, blue-ray player, DVD changer--and only three ports, so we have to use a switch for the blue-ray/DVD changer. Eventually, we'll be able to eliminate the Roku, though, and the switch is an inexpensive model (<$20) from here on Amazon, so that's not a big deal. I've also split the cable signal, and used coax into the RF port on the back, so I've also got basic cable. This would be useful if the TV supported "picture-in-picture," but it doesn't appear to do so.

The TV also has component video, digital audio out, and USB ports, none of which I've used.

APPS. This was one of the main attractions of this TV. It has built-in APPS for Netflix, Hulu+, You-Tube, Pandora, and a number of other online services. The Netflix interface is clean and easy to use. The Hulu interface is similar to the one on Roku, with all the usual flaws that implies: it's hard to navigate, difficult to search, and regularly freezes and has to be restarted. I like the programming on Hulu, but their interfaces need serious work on all platforms, including the PC.

There's no Amazon app at present. That was true for my other LG TV at release, too, but the Amazon app appeared about six months after I purchased it. It works fine--just like the App on Roku.

Other than the buggy Hulu app, we've found no latency or other problems with Netflix or the Pandora app.

There are games on this machine. I haven't tried them and don't expect I will. Indeed, with the WIDI display, other apps seem frivolous.

WIDI Display: This is one of the coolest features of this device. If your PC supports "WIDI display," you can redirect your PC's video and sound to your TV. I've tested this, and it works great. It's particularly great for HULU, where some of the content is restricted to "web only." The limited functionality of web browsers on smart TVs generally won't play this restricted content. However, it plays on my PC and--when I redirect my PC to the TV--it plays there as well! This feature works great, although there is some modest degradation of the display quality as compared with viewing HULU using the app on the TV.

One comment on my prior, a Vizio VT420M. This is a fine TV and worked well, but for two things. First, the sound from my Roku player would start to gargle after about 20 minutes. Turning the TV on and off would fix this, which strongly suggests a "handshake" problem between the ROKU box and the HDMI chip on the TV, and research on the web confirmed this suspicion. I could fix this by snaking RCA sound and component video to my TV, but that brings up another challenge with the Vizio. The design for changing inputs requires two choices, one of which scrolls through video inputs. There's no single IR signal to the TV to say "change to component video" or "change to HDMI port 2." That means that Harmony remotes--or other universal remotes--need to know the current "state" of the video input in order to scroll to the correct new input. Of course, there's no way for the remote to "know" that, and hence the TV is constantly on the wrong input and has to be manually switched. If you go back and forth between online and cable content, this is truly annoying, especially if your partner is tech-challenged and can never figure out how to "fix" the inputs. Thus, I gave away my old Vizio to a co-worker and purchased the new LG device. I did this for the above two reasons, but the improvement in picture quality alone made the purchase worthwhile.

CONFIGURATION: a snap. I think my tech-phobic partner could have done it.

INTERFACE: more or less intuitive.

REMOTE: The enclosed remote works fine and has all the required buttons. I have another LG TV with the "magic" remote, which uses an RF interface instead of IR. I HATE the magic remote and infinitely prefer the conventional IR interface. An RF "magic remote" is available for this TV, but you don't need it. I know some people like it, but I'm not one of them. The "mouse" is difficult to control, and it relies on pop-up menus on-screen. Since the mouse is difficult to control, the pop-up menus are frustrating. I'd rather use buttons on a remote.

As an aside, I use a programmable Harmony remote (the 520) to control my devices. It works fine, but I had to teach the remote the "back" button that's essential for navigating the on-screen menus on the smart TV applications. That's not a problem with LG, of course, but it is something missing from the otherwise impressive Harmony database.

So...overall, we really like this TV. The picture is awesome, the apps are satisfactory, and it's easy to control.
James E. Highland - Two Thumbs Up!I love this book! And although some reviewers have criticized it for being too whimsical or (gasp) even simplistic, I find those same qualities to be an essential part of its readability and helpfulness. This is a book written by a professional artist who had to learn to "unblock" and re-open the flood gates of her own stalled creativity; and she has written a methodology for other artists who might have similar problems. I see it as a heartfelt and constructive effort to help other artists unlock their own inspirational pathways.

This book contains many useful ideas on how to "relocate" your muse and increase your output, and offers a full deck of different and interesting ways to challenge yourself to higher levels of artistic consciousness, with a small sprinkling of the spiritual.

I've been a painter for over forty years (and, yes, I am a selling artist, and serious about my painting), and every once in a while, for me, this book is worth another slow, enjoyable read. The section about "refilling our artist's well" and the "artist's date", where you plan new experiences to re-energize your artistic self and recover your connections by finding a fresh view and thinking outside-the-box, is absolutely priceless. Kicking around some funky galleries, eating strange ethnic foods all by yourself, finding a new trail to hike, giving your brain something new to chew on is good stuff! Another part tells us how to manage that little critic that sits on our shoulder doing its best to limit our vision and confidence, with the author urging us to latch onto one's inner powers, harness that unique vision, jump in and try something, anything, just get it out there, okay? Face the blank page, face the white empty canvas, and then let it go, do something with it, make it a reality! And the "morning pages" -- well, they can change your life and probably will, if you actually do them.... Many wonderful tools, all in one small volume.

This book is written for those "creatives" who wish to explore a different pathway to their own liberation and individuation, and for those artists who might want a different articulation of the more "spiritual" aspects of creating our art. That's it, and while it may seem simplistic to some, it is very illuminating in my view. And, Julia Cameron states right up front that some readers may want to skip around or choose which parts they wish to try -- no rules, just the offering. I like that approach. And if only one of her many methods works for you, then reading this book is well worth the price. I have recommended this volume to every other artist I know, and each one of them has thanked me later. This book is inspiring, supportive and practical, and while no single book can fulfill every artist's needs, I think this one comes pretty close.... I say, take it for what it is, an empowering effort based on some solid tools and methods, then use the parts you like. I give The Artist's Way two thumbs up! Way up.
Jenna Wikler "skulker" - i love it!i have never been into superheroes, but i love everything by joss whedon. i LOVED the avengers, and i was so excited when i found out about this show. especially upon learning that jed whedon & maurissa tancharoen are the showrunners (they worked on dr. horrible and dollhouse)! i loved the pilot episode - it was exciting to see ron glass, cobie smulders, and j. august richards again. episode 2 was pretty weak and i feared for the show, but i thought episode 3 redeemed it.

this show is classic whedon - it's a mix of genres which will satisfy just about any mood i'm in. and because the dialogue is so good, i can watch the episodes over and over without getting bored, even though i know the plot. that's something i can only do with whedon shows and movies. also, like other whedon shows, it isn't perfect starting out and there's much room for improvement, which only makes me more excited about it because i know it will improve. all of whedon's shows (except for firefly, which was awesome from the beginning) get much better as they go along and find their footing. i am very happy that ABC has picked this up for an entire season, and i really hope we get at least a second season, because joss plans to become much more involved as soon as he's done with the next avengers movie. with his increased involvement, we are sure to get something amazing, so long as the show stays on the air.

i think it's too bad that some people give the show 1 star because of something that has nothing to do with the show, such as not being able to view it on amazon right away, or some other problem with delivery. i also think it's ridiculous to rate the show poorly because it doesn't have enough superheroes. "not all heroes are super"! other critiques i find more valid. we need some back story on fitzsimmons, because it's hard to relate to them in their insular geek world. i can see them becoming adored though. and the cast, overall, is very young and that strains believability. yes, and they're all unnaturally goegeous. but that's tv. i am willing to suspend disbelief regarding these young, gorgeous agents, because this is whedon! i am so happy that he's doing tv again (he had sworn off it) because anything he touches turns to gold.

if i were to add up all my criticisms of this show, i still wouldn't have enough to remove a single star. this is good tv! and most tv is pathetic. i think that j.j. abrams cannot hold a candle to joss whedon, and people will see that as time goes on.